Airport Information Shanghai:
Pudong and Hongqiao
Pudong International Airport (PVG)
Pudong International Airport was completed in September 1999 and is located 30 km to the east of Shanghai city center and about 40 km away from Hongqiao International Airport. It is currently serving 50 domestic and foreign airlines and connecting to 70 international and 60 regional destinations.
Info: Pudong International Airport (PVG)
Terminal Map
English version
Services
English version
Pudong Flight Information
English version
Transportation to and from
English version
Maglev
Hotline Tel: 28907777
Station Pudong Airport
From Level 2F Gates 1, 2, 3, 4
Station Lonyang Road Metro Station
First Train 8.30 am last train 5.30 pm
Airport
Tel: 9608 1388
Website
http://www.shairport.com/en/index.jsp
Info Passenger Flights
Tel: 3848 4600
Immigration Inspection
Tel: 6834 2677
Quarantine Bureau
Tel: 6834 5634
Terminal Police Station
Tel: 6834 5692
Lost and Found
Tel: 6834 6324 Ground Floor near gate 7
Fax and Internet Service
Ground floor opposite gate 7 and 8
Hourly Hotel
Apply via Business Center Tel: 086 21 6834 6519
Baggage Deposit Counter
Ground Floor gate 1 and Third Floor Gate 10
Trolley Service
Free, Porter 10 RMB
Disability Access
Register at Info desk 3rd floor, gate 4
Nursery Room
Cribs , basins and chairs at termina
Bookshops
Zhong Shan Book Store at Domestic Terminal
Sunrise Book Store at International Terminal
Pharmacy
HuaSi Pharmacy at Domestic Terminal
VIP SErvice
Tel 0086 21 6269 1071
Airlines
see Tourism and Travel section

Like so much of this rising city's infrastructure, Pudong Airport is new, squeaky clean, super-efficient - and built to impress. The main terminal building was designed to enable travelers to get from one side to the other as quickly as possible without having the usual one or two mile trek through all the gates.
And, what a difference this makes - it really works! A great sense of space and light, brought about by the building's unique architectural style also helps to create an easygoing pace that is nowhere near as frenetic as so many other international airports. Again, all signs are clearly marked in English.
If you want to arrange to meet somebody, the arrival hall is the best place for them to wait for you and everyone needs to pass through the same gate. You can find the currency exchange, ATM machines, IDD or DDD phones, and stores everywhere in the airport. There is also a large information counter at the departure hall.
A warning for parents: you will not find a store that sells children's diapers so stock up before leaving.
Because the airport is 40km from downtown, many employers, hotels, compounds and serviced apartments will offer a collection service - find out if it is available to you and take it if possible. Otherwise, for first timers to Shanghai, tired from a long flight and laden with baggage, taxis are the best way to get to your destination.
Make sure you have your destination written in Chinese characters before you leave your home country as you may arrive late at night when there are no English speakers at the airport to translate on your behalf.
It generally costs between 120-150rmb to get to most downtown destinations. Taxi drivers use meters in Shanghai so you do not have to worry about haggling over costs. Take the taxis just outside the arrivals lounge. Do not go with the touts who will approach you inside the airport as they will charge more and will not have the correct insurance.

Of course, there are also airport buses available and these operate along six routes. However, due to the relative expensiveness of taxis and wide availability of hotel shuttle services, it is quite rare for expats and visitors to use these services.
Pudong is the international airport, but it also serves many domestic carriers too, along with Hongqiao Airport in the west of Puxi. If you are taking a flight from Shanghai, always double and triple check which airport you are flying from. Too many people have made this, often expensive and always stressful mistake. A departure tax of 50rmb is charged for domestic flights and 90rmb for international.
See also Publis Transport - Transport to and from airport - Maglev
---
Hongqiao International Airport (SHA)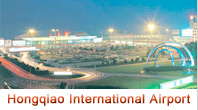 Hongqiao Airport is Pudong International's older relative. Located very close to the downtown area, this tired but still perfectly functioning hub, serves millions of domestic travelers each year.
It is also possible to fly to Hong Kong and a few other popular Asian destinations from here, but it is unlikely that this will be your entry route into China from abroad.

It is popular with expats and locals alike, who travel frequently around China, as they can get to the airport from downtown in less than 20 minutes. It is 13 kilometers away from the city center.
Again, Hongqiao is well served by public transport. A taxi will cost around 45rmb to get to the centre of town and there are large fleets of buses, charging just 4rmb and leaving regularly for Pudong and downtown areas.