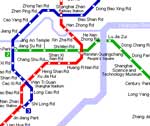 Public Transport:
Getting around in Shanghai
Getting Around
Public transport in Shanghai is extremely cheap and generally, very efficient. This makes it sound perfect, but, to be honest, the reality is a little more brutal.
Drivers, cyclists, pedestrians and motorcyclists show no concern for traffic conventions. Cars swerve violently, traffic merges without any thought to the colour of road signals, pedestrians weave in and out of the cars, delivery bikes travel excessively slowly, taxi drivers travel excessively fast - it's bedlam, and it can be extremely frightening for newcomers.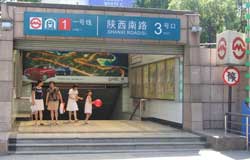 But, the consolation is, it doesn't take too long to get used to it! And, you will find it amazing - comical even - that, despite all the annoyances and bumping and shoving, no-one ever seems to lose their temper.
Meanwhile, the metro system can be frightening in a totally different way. In most cities, when a train is too crowded to get on, you can usually wait for the next and it will be less busy. Not so in Shanghai. At peak times, the shear crowds of people can be startling.
Train after train will be packed until there is barely any room for breathing space, on the trains and the platforms. if you have no head for crowds, this is no place for you.
Generally speaking, expats - young and old, rich and poor - who don't have the use of atend to use taxis - alot. Unlike Western cities, where high cab prices can prohibit daily use, Shanghai's taxis charge just car and driver, 10rmb for the first 3km and 2rmb for each subsequent kilometer. See more info below
Which ever way you decide to travel around this vast city, you can be sure that it will be a feast for the senses. A true insight into the rich, vibrant and colourful streetlife that gives Shanghai its unique personality.
---
Metro
The Metro system is growing rapidly throughout the city in terms of its reach and connectivity. It's a new system so has smart,air-conditioned trains, clean walkways and will generally get you around the city faster than any other means. At peak times, although incredibly crowded - especially at the People's Square interchange -it is the quickest way to get from Pudong to Puxi.

The busiest times for the metro are 7am-10am and 5am-7.30pm. By purchasing prepaid 'Jiaotong' cards (see stored value card below), you can save time and confusion.
The extra volume of travelers at this time is partly due to taxis being banned from using the road tunnel during rush hour times.
If ever you are in two minds about which mode of transport is better, it's worth sitting in a taxi in traffic jams for an hour or two in order to get across the bridge to Puxi.
With most journeys costing just 3rmb and taking less than 20 minutes - the metro is usually the hands down winner. So, grin and bear it.
The metro service starts early in the morning but stops before 12pm. Unlike other cities, traveling on the Shanghai metro is entirely safe for all to travel on, day or night. But remember to keep your bags closed at all times to prevent tempting opportunistic thieves.
All metro stations have English and Chinese signs and English announcements on the trains. The ticket machines have English directions and there will be at least one English speaking ticket office staff member if you need help or advice.
Info:
Shanghai Metro Authority
Tel: 6318 9000

Shanghai Bus Company
Tel: 5663 0230
Click image for Shanghai Metro Map >
---
Cycling
Hundreds of people on bikes, is one of the most enduring images of China. And, it usually doesn't take expats long to catch-on to the idea that the quickest, cheapest, healthiest and most pleasant way to get around is by bike. Cycles are extraordinarily cheap in Shanghai and, due to the large number of other cycle users and slowness of the traffic, especially in the former French concession (XuHui) area, it is really, quite safe.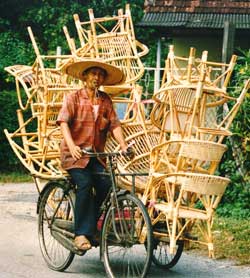 The government has recently introduced laws banning cycles from using main roads in Shanghai, but the network of cycle lanes is vast. It's a little daunting at first, especially as car driving is so erratic, but once you have your routes worked out - you'll never look back.
Cycle theft is big business in Shanghai so opt for a cheaper bike that you can easily replace and spend as much on a lock as you can. For the best children's seats and safety equipment, like helmets and lights, go to sports retailer, Decathlon, opposite Long Yang metro station. Repairs are cheap and quick, with cycle repair men on almost every street corner.
By law, you should register your cycle with the local police. You may need help in doing this as policemen do not usually speak any English. If you don't register your cycle, you may get stopped at any time and issued with a (small) on the spot fine.
---
Maglev Train to Pudong International Airport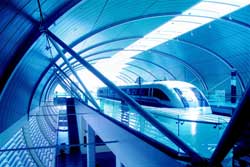 Forget the sluggish, old-fashioned Japanese bullet trains, Shanghai's Maglev lies claim to be the fastest, smoothest train in the world. Without a single pause for hesitation, it is the most superior, relaxed way to get to Pudong airport.
And, with a price tag of just 50rmb for a single journey, who could resist the opportunity to sit back in comfort and watch those led displays click on up and up and up to 420kmh (270mph).
Traveling just millimeters from the special track on a cushion of magnetic force, the Maglev arrives at the airport just eight minutes after leaving the Longyang Road metro station. Trains leave every 20 minutes and all signage is in English and Chinese.
Info: Operating Hours Maglev
Operating hours are from 7am until 9pm every day. From 7am to 8:30am and 5:30pm to 9pm the train runs at a reduced speed to save cost and traveling time is slightly longer than usual. With the recently extended hours you will be able to catch 70% of all flights leaving Pudong International Airport (before only 40%).
---
Bus Transport
After being in Shanghai for a while, expats who are able to read and speak Chinese may start using popular bus routes as a means to get from A to B.
This can be particularly useful in farther-flung places that do not have many, or any, Metro stations. Fares are as low as 1rmb depending on whether the bus has comfortable seats and air conditioning.
Local buses are even cheaper, but are dirty and crowded. There are not bus shelters, but stops along the road, are frequent and well-signposted (only in Chinese).
The frequency of buses will depend entirely on the popularity of the route and the state of the traffic.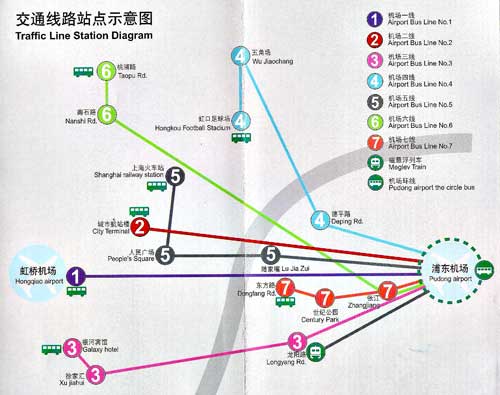 Info: AirportTransport
Maglev
Website
Bus Routes from Airport, Underground Stations
scroll down page of targeted website for viewing

Shanghai Bus Company

Tel: 5663 0230
Airport Bus No 1 and 2
no 1 travels between the two airports of Shanghai
Tel: 6834 6612
Airport Bus No 3 and 6
Tel: 6834 6645
Airport Bus No 4 and 5
Tel: 6834 6830
Airport Bus No 7
Tel: 6834 5057
Long Distance Bus from Airport

Tel: 6843 5743

Airport Circus Line

Tel: 6834 6912

Hotel Shuttle Bus from Airport
Tel: 6834 66 12


See section Tourism and Travel "Airport Information"


---
Shuttle Services
Free shuttle services are available to designated spots from larger compounds and hotels, but are usually only available to residents. Most have hourly departures and pick-up points from various central locations within the city. Health Clubs nearly always provide a collection service. Check with your concierge or management company to find out what services are offered.
Info: Pickup Points
Shanghai Racquet Club (Minhang)
Windsor Park (Hongqiao)
Longbai (Hongqiao)
Shanghai Links (Pudong)
---
Stored Value Cards

Stored value cards (called 'Jilting') that are valid for buses, metro and taxis may be purchased at subway stations, convenience stores, hotel bookshops, and the airport. Those living in compounds and serviced apartments can request them from the management office or concierge.
This is a convenient way to pay, but beware as there have been reports of taxi drivers emptying the cards of all their stored value. Again, if you keep a receipt after ever journey, it will be traceable.

---
Taxis
Probably the most contact you will have with local Shanghaianese for the first few months will be with taxi drivers.
Despite speaking no English, they are usually always polite and helpful. So, in order to avoid potentially stressful situations involving multiple misunderstandings, always carry a card or piece of paper with your home address or destination written in Chinese characters.
Make sure, if you do get an address written down, that it is in Chinese characters, not pinyin, as drivers cannot read pinyin.

Info: Calculate a taxi fare
Mileage
Time A
Time B
Within 3 km
base price 10 yuan
base price 13 yuan
mini bus: 15 yuan
mini bus: 18 yuan
3 -10 km
2 Yuan per km
2.6 yuan per km
over 10 km
3 yuan per km
3.9 yuan per km

There are thousands of cabs in Shanghai and, other than at peaktimes (8-9.30am and 5-6.30pm) and on rainy days, one will never be far away.
The drivers do not wait at bases but travel continually to look for fares. Most cars are older-style Volkswagens, which are often a little shaky and rattly, but an increasing number of Mercedes vehicles are now being introduced.
Unlike just about any other world city, Shanghai taxi drivers do not like to be tipped and will always return the exact change. They use meters to ensure there is no quibbling over fares. They will print passengers a receipt. This piece of paper is worth keeping, because, if ever you leave anything in a taxi, you can call the company, quote the receipt number and they will return your goods. How about that for honesty!
Info: Taxi colors in Shanghai
| | |
| --- | --- |
| Turquoise taxi | Da Zhong |
| Yellow taxi | Qiangsheng |
| Light Green Taxi | Bashi |
| White Taxi | Jinjiang |
| Blue taxi and Red Taxi | Other |

If you need to be somewhere at a certain time, taxis can be booked in advance. These services are in Chinese only - and often just Shanghaianese speaking operatives - so you will need to ask someone to arrange this for you (neighbours or concierge are usually more than happy to help). Here's the numbers;

Info: Taxi phone numbers
| | |
| --- | --- |
| Handicapped Taxi, Bus, mini bus | Tel: 6215 5555 |
| Da Zhong Taxi | Tel: 6258 0000 |
| Bashi Taxi | Tel: 6431 2788 |
| Jinjiang Taxi | Tel: 6275 8800 |
| Qiangsheng Taxi | Tel: 6258 0000 |
| New Huaihai Taxi | Tel: 6301 7003 |
| Pujong Star | Tel: 6215 5555 |
| Jin Jiang Tourism Taxi | Tel: 6464 7777 |
---
Trains

Expats in Shanghai on business, will doubtlessly need to use the railway network at some point to visit a client or supplier. China is a huge country and often, taking a train journey for 5 or 6 hours can be the fastest way to get to your destination. They are also useful for exploring famous local cities like Hangzhou, two and a half hours to the south of Shanghai.
Naturally, Shanghai is currently building a world beating railway station but at present, the main station, Shanghai South Railway Station at Zhaofeng Lu, has been renovated to make it more attractive. This is easily accessed by taxi, buses or Metro Line 1.
The station is incredibly busy at all times and can be quite disorientating unless you read and speak Chinese. It is best to take along a guide who can help you through the ticket buying process and onto your train seat. Seats come in hard and soft options, obviously with soft seats carrying the premium of space and air-conditioning/heating.
Seats cannot be pre-booked on many routes, so it really is essential to get to the station way ahead of your departure time. For longer routes, sleepers are available and can be pre-booked through travel agents. These trains, often bound for destinations like Beijing and Hong Kong, leave from the Shanghai Railway Station in the north of the city at Meiyuan Lu This is also accessed by Metro Line 1.
As with the airports, check and double check to find out which station your train departs from. Trains are a very inexpensive way to see China and a great way to practice your Chinese. Due to the kindness of Chinese people, children are always well taken care of on board and they will certainly get plenty of attention from staff and fellow travelers.
Info: Railway Stations Shanghai