Shanghai Sports Activities A - Z :
Expat guide on sport courses and classes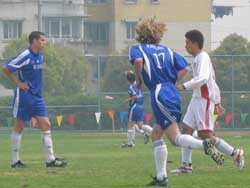 Maybe because the temptation to go out to eat and drink every night is so great that westerners rely so heavily on sport as a way to create a healthy balance in their lives. And, in general, it's fair to say that Shanghai expats are a pretty active bunch.
You will be spoilt for choice of high quality sports facilities in Shanghai, both private and public, and you will never be short of people with whom to share your passion.
Make sure you try some new activities too - here is your long-awaited chance to learn martial arts from genuine Chinese masters or try your hand in a team of Dragon Boat racers.
Sports offers the greatest opportunity to enjoy yourself, make new friends from all over the world and stay fit and healthy. As you will see from the listings below, anything can be done here. And - parents who have let them selves go a bit, take note - with affordable childcare there is no excuse for not getting out there and getting involved!
All Sports Groups
Websites
Archery
Addresses:
Daoshun Archery
96 Zhaojiabang Lu
Tel: 6473 9406
---
Badminton
Addresses
Shanghai Badminton Club
Huashida's Badminton Facility|
3663 Zhongsham Road (W)
Tel: 13916104066
Email:
LL Badminton Club
Tel: 13681743724
---
Baseball
Address:
Active Kidz Shanghai
3333 Hongmei Road
Tel: 6404-6757
(Children and teenagers only)
Website
---
Basketball
Addresses:
Gang of Basketball Fans
7-9pm every Thursday in Dynamic Recreation Club
Tel: 13816355670
Biking/Cycling
Addresses:
Red Devils MC Shanghai
500 cc owners; rules and restrictions apply to join activities.
Email:
Website
Motorbike Shanghai
Meets 9 am Sundays in good weather.
Email:
Wolf's Mountain Bike Club
Tel: 13801953000
E-mail:
Shanghai Bike Club
Suite 2308, Building 2
2918 North Zhongshan Road
Tel: 021- 5266 - 9013
Fax: 021- 5266 - 9016
Mobile: 139 - 1875 - 3119
Contact: Eril Zhang
Shanghai Bicycle Club
Organizes regular weekend ridings and biking activities in great Shanghai area. Supplies quality mountain bikes, sporting accessories, equipment rental, bike maintenance. Actively Pursuing Enlightenment
Suite 2308, Building 2,
2918 North Zhongshan Rd
Website
Tel: (86-21) 5266-9013, (86)139-1875-3119
Email:
---
Bowling
Address:
Lai Lai Bowling Alley
765 Wuyi Road
Tel: 6234-5657
Orden Bowling Centre (24 hours)
10 Hengshan Road
Tel: 6474-6666
Regal International  Hotel
516 Hengshan Road
Tel: 6415-5588
Website
Sakura Bowling Alley (24 hours)
580 Jiangning Road
Tel: 6227-1088
Tong Ling Bowling Alley (24 hours)
Bo. 15 Lane 123 Caoxi Road
Tel: 6468-5858
Zhengyang Bowling Alley
315 Guangyuan Road (W)
Tel: 6481-0898
Radisson Hotel Bowling Alley
B/F The Radisson Hotel
78 Xingguo Lu
Tel: 6227 1088
Shanghai International
Tennis Center Club
Regal International East Asia Hotel
516 Hengshen Rd
Tel: 6415 5588
---
Boxing
Addresses:
Shanghai Kickboxing Club
4/F, Block A, 66 Cao Bao Road
Guang Da Hotel
Email
Shanghai Xialong Boxing Club
2, 666 Tianyaoqiao Lu
Shanghai Stadium
Website
---
Cricket
Addresses:
Cricket, indoor and outdoor
Meets at various locations.
Contact: Mike Tsesmelis
Tel: 13621935254 Email or
Gary Davies
Tel: 13601985462 Email
Indoor Cricket
Room 106, 1634 Central Huaihai Road
Tel: 6431-1988 ext. 106
Email
Indoor and Outdoor Cricket
Biyun Lu
Pudong
Tel: 139 0189 9662
Website
---
Diving
Addresses:
Aquaria 21 Dive Club
Diving in a 2.2 million litre ocean aquarium. All equipment provided.
Gate 4, Chongfeng Park, 451 Daduhe Road
Tel: 13701764231 
Email:
Unscuba Diving Club
Chang De Road
545 Lane no 174 unit 405
Tel: 86 21 62555031
Website

Big Blue
Suite 101, No. 10, Lane 900, Maotai RD,
Changningi
Tel: 86-21-6291-2110
Fax: 86-21-6291-8116
Email: [email protected]

Shanghai Seastar Diving Club
Tel: 21 642 66 666
Website (chinese)

Gaia Adventure Diving Resort
Shenzhen
Sunshine Resort Xichong, Nanao
+ 86 755 2121 1148
Website
Dive Dragon
Guangdong
Rm 515-519 1st Tower ZhongShan Rd
Website (chinese)
---
Dragon Boat Racing
Address:
ShangLong Dragonboat Team
Practices on Sunday mornings in Qingpu County, Dian Shan Lake; beginners are welcome.
Tel: 13621666248 (Cathy)
Email:
---
Addresses:
Shanghai Amateur Fencing Club
Meets 6-9pm Tuesday and Thursday
Ling Ling Middle School
451 Dong An Road (at Zhongshan Road (S)
Email:
Janus Fencing
1900 Tianshan Lu
Website
Shanghai Jianfeng Fencing Club
451 Donan Lu
Ling Ling Middle School
Wed 6:30
Shanghai Power Fencing Club
456 Xietu Lu
Website
---
Fitness Centers / Gyms
Addresses
BodyTech
387 Panyu Road
Tel: 6281-5639
Clark Hatch Fitness Centre
3F Radisson Plaza Xing Guo Hotel
78 Xing Guo Road
Tel: 6212-9998 ext. 3300, 3303
Dynamic Recreation Club
1011 Zhongshan Road (W)
Tel: 6219-9199
Everbright Sports
Block A,
Shanghai Everbright Exhibition Centre International Hotel
88 Cao Bao Road
Tel: 6432-5283/6475-3288 ext 70192
Fitness First at Plaza 66
B/1, Plaza 66
1266 Nanjing Road (W)
Tel: 6288-0152
Gold's Gym
2F Jiu An Plaza
258 Tongren Road
Tel: 6279-2000
Lan Sheng Gym
5F Central Huaihai Road
Tel: 6386-2262
Megafit
1F Zheng Hai Building
398 Central Huaihai Road
Tel: 5383-6633
Mina International Health Centre
4F Tai Hao Building
3211 Hongmei Road
Tel: 6401-5155
Shanghai Gubei Gym Club
59 Ronghua Xi Dao
Gubei
Tel: 6219-5818 ext. 152/168/318
Spa at Club Oasis of Grand Hyatt Shanghai
57/F Jin Mao Tower
88 Shi Ji Da Dao
Grand Hyatt Shanghai
Tel: 5047-1234 ext.8948
The Spa at The Hilton
4F Jing'an Hilton
250 Huashan Road
Tel: 6248-0000 ext. 2600
Total Fitness Club
6F Zhong Chuang Building
819 Nanjign Road (W)
Tel: 6255-3535
4F Heng Da Plaza
285 Chang Shu Road
Tel: 6276-2922
Weider-Terra Gym International
4F, 231 Wuning Road
Tel: 6243-6069, 6254-9870
Yangpu Branch:
1-2F, 500 Pingliang Road
Tel: 6520-9876
Portman Ritz-Carlton Fitness Centre
1376 Nanjing Road (W)
Tel: 6279-8888 
Shanghai International Club
4F Equatorial Hotel
65 Yanan Road (W)
Tel: 6248-1688 ext. 292
Star Gym
428 Jiangning Road
Tel: 6267-4524, 6271-7944
top Form Health Club
1F Regal Shanghai East AsiaHotel
800 Lingling Road
Tel: 6426-6888 ext. 8366
Changning Gymnastics Center
777 Wuyi Lu
Tel: 6228 9488
Jazz du Func
Aerobics, Pilates
UDC Innovative Plaza, Buildg C,
No. 125 Jiangsubei Lu
Tel: 52 39 99 22
Website
Kerry Centre Gym
2F 1515 Nanjing Road (W)
Shanghai Kerry Centre
Tel: 6279-4625
---
Football/Soccer
Websites
Golf/Clubs

Shanghai may be regaining her capitalist veneer, but the lifestyle clubs that were anathema to the hard-core Communist regime are slow to make a comeback. Although there are persistent rumors about clubs making a comeback on various locations on the Bund, the American Club remains the only real lifestyle club in Shanghai, and it is really a town club, with no swimming pool or facilities for children.

Golf clubs, however, have caught on, in part spearheaded by expatriate Western and Japanese population, but now a firm favorite among yuppie Chinese as well. Shanghai Links, Tomson Villas and Rodin Garden Villas, expatriate housing communities, are located around golf courses.

There are about a dozen golf clubs in Shanghai, many of which permit non-members to play for a fee. Even the membership golf clubs often have arrangements with hotels and apartment complexes, so check to see if yours has one.

Golf clubs are located between 20 minutes' and 1 hour's drive from downtown Shanghai, and memberships cost from between US$2,000 to US$20,000.Shanghai's nicest golf club is probably the Fuchun Resort, located outside of Hangzhou (about a 2- 21/2 hour drive from Shanghai).

See also the Expatriate Web Sites for possible transfer of memberships.

Addresses Golf Resorts
Shanghai Binhai Golf
Binhai, Nanhui, Pudong Shanghai
Tel: 5805-8888
Shanghai Golf Club
3765 Jiahang Gong Road
Jiading District
Tel: 5995-0111
Shanghai Links Golf and Country Club
1600 Lingbai Road, Pudogn
Tel: 5897-5899
Shanghai International
Golf and Country Club
Xinyang Cun, Zhujiajiao Zhen Qingpu District
Tel: 5972-8111
Sun Island Golf & Hot Springs Resort
2588 Shentai Road
Zhujiajiao Town, Qingpao District
Tel: 5983-0888
Shanghai Riviera Golf Resort
277 Yongzi Road, Nanxiang, Jiading Town
Tel: 5912-6888
Tomson Golf Club
1 Longdong Road, Pudong
Tel: 5855-5858
Shanghai Tianma Golf & Country Club
3958 Songjiang Road
Zhaokun Road
Tel: 5766-1666
Fuchun Resort
Hangfu, Yanjiang Road
Tel: 571-6346-1111
Website
Shanghai Grand City Club
9 holes
9988 Zhongchun Road
Qi Bao Town
Tel: 6419-3676
Hongqiao Golf and Rodin Garden Villa
9 holes
567 Hongxu Road
Tel: 6401-666
Shanghai Grasslands Golf Club
1386 Huqingping Highway
Tel: 6219-6054
Driving Range:
Dong Zhen Golf and Country Club
1008 Huqigping Highway
Tel: 6420-6666
Shanghai East Asia Golf Club
135 Jianguo Road (W)
Tel: 6435-1198
Rise Golf Club
755 Huaihai Zhong lu
21 D East Tower
Tel: 6431 8135
Website
Shanghai Lujiazui Golf Club
501 Yincheng Zhong Lu
Tel 6887 1200
Website
---
Go-Karting
Address:
DISC KART Indoor Karting
326 Aomen Road
Tel: 6277-5641/5252-0278
IB Racing Kart Club
880 Zhongshan No. 1 Road (N)
Hongkou District
Tel: 6531-6800
Quyoung IB Racing Club
Zhongshian Bei Yi Lu
Tel: 6531 6800
---
---
Hash House Harriers /Running
Addresses:
Shanghai Hash House Harriers
Tel: 13818183010 (Mark)
13817309937 (Rob)
Website
Taiping Hash House Harriers
Tel: 5047 1634
Email
Pudong Full Moon Hash
Tel: 5047 1634
---
Hockey
Addresses:
Shanghai International Field Hockey Club
Tel: 1391 8186037
Email
Unicorns Shanghai Kids Ice Hockey Club
101, Building 7, 910 DingXiang Rd.
Pudong, Shanghai 200135
Tel: 1367 181 6145
Website
Email:
Ice Hockey Shanghai
Houkou Swimming Pool Leisure Rink
500 Dongjiangwan Lu
Tel. 5696 0676
Shanghai Hockey Club
Email
---
Horse Riding/Equestrian Sports
Addresses:
Shanghau Hui Huang Horse Riding Club
517 Xinhua Road
San Lin Town, Pudong
Tel: 5084-8898
Website 
Jialiang Equestrian Club
1858 Sanlu Lu
Pudong
Tel: 3411 0069
Shanghai Equestrian Course
328 Lianming Road
Xujing Zhen, Qingpu County
Tel: 5976-3306

Meadowbrook Equestion and Rural Activity Center
2780 Shenzhuan Highway
Qingpu
Tel: 6983 0022
Website
---
Inline Skating/Rollerblading/Skateboarding
Addresses:
Shanghai Zoo (Rollerblading/Skateboarding Ring)
2831 Hongqiao Road
Tel: 6268-9773
SMP Skatepark
2100 Songhu Luby
near Fudan University
Daily 1 pm - 5 pm
Cartoony World
4/F Brilliance West Shopping Mall
88 Xianxia Xi Lu
Changning District
Tel: 5218 1042
New Generation Skating Palace
30 Jiangsu Bei Lu
Tel: 6251 3410
Pudong Children's Palace
318 Yingchun Lu
North of Century Prk
Tel: 5033 2080
Waigaoqiao Roller Skating Club
51 Caogao Lu
Pudong
Ice Skating
Houkou Swimming Pool Leisure Rink
500 Dongjiangwan Lu
Tel: 5696 0676
---
---
Martial Arts
Addresses:
Authentic Chinese Martial Arts
Rm 311, No.3, Lane 210 Tai Kang Road
Tel: 13701685893 (Mr. Zhang)
Jeet Kune Do/Mixed Martial Arts Classes
Gold's Gym
258 Tongren Road
Tel: 6279-2000
Email:
Jingwu Wu Shu Centre
618 Xujiahui Road
Tel: 13901803045
Wednesdays, 6:30 – 8:30pm
Judo for beginners and females
Tel: 13651658033 (Machiko)
LongWu International Kung Fu Centre
215 Shanxi Road (S)
Tel: 13003252826
Email:
Shanghai Wushu Center
595 Nanjing Xi Lu
Tel: 6215 3599
Mingwu International KungFu Club
3/F 359 Hongshong Lu
Tel: 6465 9806
Shanghai Martial Arts Center
595 Nanjing Xi Lu
Tel: 6215 3599
Longwu International KungFu Center
215 Shaanxi Lu
Website
Aikido Shinju-Kai
no 2, Lane 591, Nanjing Xi Lu
Tel: 1391 7073111
Website
Mingwu International KungFu Club
3/F 359 Hongzhong Lu
Tel: 6365 9806
Website
Wuyi chinese Kung Wu Center
(Kids classes)
216 Taikang Lu
---
Orienteering
Addresses:
Dragon Sports
Orienteering every week
Tel: 6438-5848, 6468-0310 
Orienteering
Tel: 6507-9571, 6521-6383
Website
See also Kids' and Teenagers'Camps
---
Paintball
Addresses:
Weicheng Paintball Shooting Centre
780 Changning Road, in Zhongshan Park
Tel: 6210-5805
Planet Laser Tag
4/F 4th stand Hongkou Football Stadium
444 Dongjiangwan Lu
Tel: 5560 0658
Website
---
Pool
Addresses:
O'Malley's
42 Taojiang Road
Tel: 6474-4533
Face Bar
Building 4, Ruijin Guest House
118 Ruijin No. 2 Road
Tel: 6466-4328
---
Rock Climbing/Mountaineering
Addresses:
Masterhand Climbing Club
No. 21 Stand
Hongkou Football Stadium
444 Dongjiangwan Lu
Tel: 5696 6657
Rock Climbing Classes
Tel: 13601647050 (Edvard Olsson)
E-mail:
---
Rugby
Addresses:
SFC Pudong opposite Kinqiao Carrefour
Sat afternoon
Website
Shanghai Touch Rugby Association
Tel: 1390 182617
Website
Shanghai Sharks Women's Rugby
Claire Wilkins [email protected]

---
---
Skiing/Snowboarding
Addresses:
Shanghai Snowboard Club
Hokkaido Indoor Snow Slope
1835 Qixing Road
Tel: 6431-9738
E-mail
Yingxing Indoor SKiing Site
1835 Qixin Lu
Tel: 6478 8666
Yingxing Snowpark
1835 Ziixinlu
Minhang
(shuttle bus from metro station Xinzhuang)
---
Skydiving/Paragliding
Addresses:
Parafly China
Contact:
Tel: 13301813737 (Mr. Qin)
Email:
Email (German/English)
---
Softball
Addresses:
Shanghai Softball League
Spring season begins in March
Contact China Jim
Email:
Website
---
Squash
Addresses:
Shanghai Squash League
Competition, tournaments, training
Tel: 13701849343 (Esdon Lee)
Email:
Website

See also Tennis
---
Swimming
Most hotels have (mostly indoor) swimming pools, and many in-town expatriates join one of these health clubs, such as the Ambassy Club on Huaihai Lu which also has an outdoor pool in the summer, for use of the pool. Costs begin at US$ 700 per year and go up to US$2,000. Expatriates who live in the Western suburbs, however, may choose to belong to the Shanghai Racquet Club, which has both an indoor and outdoor pool as well as tennis facilities.

Because there are so many clubs and many are empty for alot of the time, the tip, as far as joining clubs is concerned, is making sure that you join one that has your kind of people as members. If you have a family - join a club that is frequented by lots of families. Or, if you are single - avoid the family clubs because the children will drive you mad every time you want a swim. Your real estate agent will advise you as to the nearest facilities to you and you might even be able to negotiate membership as part of your rental agreement.
Listed below are also the local pools, which charge per-entry (RMB1-2).
Addresses:
Changning Swimming Pool
1037 Yuyuan Road
Tel: 6213-6501
Jiangwan Wave Pool
346 Guohe Road
Tel: 6548-1789
Jiangwan Wave Pool
346 Guohe Lu
Tel: 6548 1789
Pudong Natatorium
3369 Pudong Road (S)
Tel: 5889-0101
Shanghai Swimming Pool
1300 Zhongshan Road (S)
Tel: 6438-2372
Shanghai Star Sports
428 Jiangning Road
Tel: 6272-6778
Portman Ritz-Carlton Health Club (outdoor pool)
1376 Nanjing Road (W) 7th floor
Tel: 6279-8888
Kerry Centre Health Club
1515 Nanjing Road (W)
Tel: 6279-1515 
Shanghai Racquet Club
Lane 555, Jinfeng Road
Hua Cao Town, Minhang District
Tel: 2201-0100

See also Fitness Centers.
---
Taekwan-Do
Addresses:
Long Wu International Kungfu Centre
215 Shanxi Road (S)
Tel: 13003252826
Shanghai Black Belt Taekwondo Club
Puxi: 4F, Room D
1669 Kai Xuan Road
Pudong: 3F, 632 Pudong Boulevard
Website
---
Taiji
Addresses:
Long Wu International Kungfu Centre
215 Shanxi Road (S)
Tel: 13003252826
Authentic Chinese Martial Arts
Rm 311-313 No. 3, Lane 216 Tai Kang Road
Tel: 6416-8019
Kerry Centre Gym
1515 Nanjing Road (W)
Tel: 6279-4625
Shanghai Gubei Gym Club
59 Rong Hua Xi Dao
Tel: 6219-5818 ext 157/159/213
---
Tennis
Addresses:
Pudong Tennis Center
9 Yushan Road (Yuansheng Stadium)
Tel: 5821-5850
Shanghai International Tennis Center
516 Hengshan Road (Regal Hotel)
Tel: 6415-5588 ext.82
Shanghai Jiabao Tennis Club
118 Xincheng Road
Jiading Sports Center
Tel: 5999-7151
Shanghai Racquet Club
Lane 555 Jinfeng Road
Huacao Town, Minhang District
Tel: 22010088
Website
Shanghai Xian Xia Tennis Center
1885 Hongqiao Lu
Tel: 6261 5984
GEORG Charles
prof. multilingual tennis coachs
individual/corporate tennis training
comes to compound
HP: 13816104242
HP 2: 29798145
Tel: 54901180
Email
---
Watersports - Canoeing / Kayaking / Sailing / Water Skiing
Addresses:
Shanghai Boat and Yacht Club
Dianshan Lake near Shanghai
Email
Website
---
Yoga
Addresses:
Dynamic Recreation Club
1011 Zhongshan Road (W)
Tel: 6219-9199
Hatha Yoga
6F Hong Kong Plaza
282 Central Huaihai Road
Tel: 13801977749
E-mail:
Kerry Centre Gym
1515 Nanjing Road (W)
Tel: 6279-4625
Malik's Hatha and Vinyasa Yoga
2F Jiu An Plaza
258 Tongren Road
Tel: 6279-2000
Email:
Shanghai Gubei Gym Club
59 Rong Hua Xi Dao
Tel: 6219-5818 ext. 157/159/213
Shanghai International Tennis Centre
516 Hengshan Road
Tel: 6415-5588
Y+ Yoga Centre
299 Fuxing Road
Tel: 6433-4330
Email:
Website
Om Room
Clark Hatch Fitness Center
The Courtyards Apts.
55 Zhennning Lu
Tel: 139 1824 8235
Kundalini Yoga Asia
Rm 15A08 495 Jiangning Lu
Tel: 5267 6842
Website
Breeze Yoga Centre
1949 Hongqiao Lu
Tel 6295 9068
Website
---