Religious Services:
Find a church, temple, mosque in Shanghai
Introduction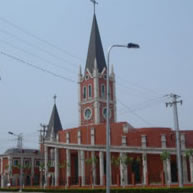 There are five official religions in China, and all are represented in Shanghai: Buddhism, Taoism, Catholicism, Protestantism, and Islam.
There are controls, however: the China-based Catholic Patriotic Association is the ultimate authority over Shanghai's 140,000 Chinese Catholics, not the Pope, while local Protestants look to the Three Self-Patriotic Movement.
To discourage proselytizing, local Chinese are not permitted to worship at the same Christian services as foreigners, although foreigners may attend Chinese services.
Overseas Chinese may be asked for a passport before entering a foreign service. Buddhist temples are all open to all, and worship at mosques is limited to Muslim men, although all may visit.
Info:
BUDDHISM
ISLAM Website

Shanghai Buddhist Association
160 Anyuan Lu
Tel: 6266 5943

Shanghai Moslem Association
70 Zhejiang Zhong Lu
Tel: 6377 2345


Jade Buddha Temple
170 Anyuan Lu
Tel: 6266 7647

8am-12pm, 1-5pm

Xiao Tao Yuan Mosque,
Xiao Tao Yuan Jie
(off Fuxing Dong Lu at Henan Lu)
Tel: 6377 5443
8am - 7pm
Sanwei Temple
107 Dong Jiangyin Lu
Tel: 6377 2722
Fuyou Lu Mosque
378 Fuyou Lu
Tel: 6328 2135
Long Hua Temple
2853 Longhua Lu
Tel: 6456 6085
Huxi Mosque
No. 3 Lane 1328
Changde Lu
Tel: 6277 2076
Jing An Temple
1686 Nanjing Xi Lu
Tel: 6256 6366
Taoism
Judaism
Bai Yun Taoist Temple
8 Lane 100
Xilin Hou Lu
Tel: 6387 6402

The Shanghai Jewish Center

Shang-Mira Garden Villa #2
1720 Hongqiao Lu
Tel: 6278-0225

CATHOLIC
For the latest information on English masses in Shanghai, go to ShanghaiInternationalCatholics-SPICES see Website. Members can download maps and recent bulletins and post questions; to request membership send an email.

SACRED HEART OF JESUS CHURCH (Pudong) .
151 Hong Feng Rd, Jinqiao, Pudong
(Hong Feng/Biyun Rds.)
ENGLISH MASSES:
Sundays at 10:30 a.m.

Fu Jia Rose Church

1115 Pudong Da Dao

Tel: 5885 3172

St. Ignatius Cathedral

158 Puxi Lu, Xujiahui Qu

7 am Mass in Shanghainese; foreigners may attend.

Tel: 6469 0930

Qingxin Church

30 Dachang Lu (at Lujiabang Lu)

Tel: 6377 0874

Dongjiadu Cathedral

175 Dongjiadu Lu

Mass in Chinese

Shanghai Grace Church

375 Shanxi Bei Lu (at Nanjing Lu)

Masses in English and Chinese.

Tel: 6253 9394

Jesus Sacred Heart
151 Hong Feng Road, Pudong
Tel: 5854-6621

Xu Jia Hui Catholic Cathedral
158 Puxi Lu
Tel: 6438 2595
Ruo Se Catholic Church
666 Pudong Dadao
Tel: 5876 9532
ST. FRANCIS XAVIER CHURCH
185 Dongjiadu Rd.
ENGLISH MASSES:
Saturdays at 5pm
Sundays 10:30am and 12:30pm
Protestant
Methodist

Shanghai Community Church

53 Hengshan Lu

Sunday morning services in Chinese, Sunday afternoon in English
(foreign passport holders only)

Tel: 6437 6576

Moore Memorial Church (Mu'en Tang)

316 Xizang Zhong Lu

Tel: 6322 5069

Protestant Worship Celebration
Shanghai Community Church
53 Heng Shan Road
District
(corner of Wulumuqi Nan Lu and Heng Shan Lu)
Puxi
Tel: 6437-6576

Abundant Grace International Fellowship
455 Hong Feng Rd., Jinqiao, Pudong
(Hong Feng Rd./Ming Yue Rd.)
Services in English language:
Saturday at 6:30pm Sunday at 3:00pm
Tel: 3382-1770 ext. 205
www.agifshanghai.com

Mormon
The Church of Jesus Christ of Latter-Day Saints
Puxi Branch
1720 Hong Qiao Road,
House #7 Shang Mira Garden
Tel: 5257-0256
Pudong Branch
The Emerald Forest #41
The Emerald
2888 Hu Nan Road
Kang Qiao Area.
Tel: 1331-185-2233